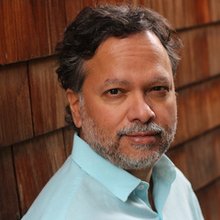 Vikram Chandra
Teaching Professor, English
Co-founder, CEO, Granthika Co.
                                                                                                                                                                                                                                                                                                                                                                                                                                                                                                                                                                                                                                 
Born in New Delhi, Vikram Chandra is a writer and teacher; an avid amateur student of pre-modern Indian literature, aesthetics, philosophy, Sanskrit, languages, and history; and a programmer. Chandra came to the United States as an undergraduate student. In 1984, he graduated magna cum laude from Pomona College with a B.A. in English, with a concentration in creative writing. He then attended the Film School at Columbia University in New York. In the Columbia library, by chance, he happened upon the autobiography of Colonel James "Sikander" Skinner, a legendary nineteenth century soldier, born of an Indian mother and a British father. This book was to become the inspiration for Chancdra's novel, Red Earth and Pouring Rain. He left film school halfway to begin work on the novel, working with John Barth at Johns Hopkins and with Donald Barthelme at the University of Houston; he obtained an M.A. at Johns Hopkins and an M.F.A. at the University of Houston. Red Earth and Pouring Rain ultimately won the 1996 Commonwealth Writers' Prize for Best First Book and the David Higham Prize for Fiction, and was adapted for a Netflix TV series.
Chandra is also the author of a collection of short stories, Love and Longing in Bombay; the novel Sacred Games, which was adapted as a Netflix series for which he served as executive producer; the nonfiction book Mirrored Mind: My Life in Letters and Code (also known as Geek Sublime: Writing Fiction, Coding Software and Geek Sublime: The Beauty of Code, the Code of Beauty). He is the co-founder and CEO of Granthika Co., a software startup that is re-inventing writing and reading for the digital age. Chandra currently divides his time between Mumbai and Berkeley.